As second-year Bears GM Ryan Poles and I worked through the ins and outs of a trade that'll help define his time, for better or worse, in Chicago on Thursday night, a simple question popped in my head. I knew neither he nor coach Matt Eberflus had definitively told Justin Fields that he'd be their quarterback in 2023 before trading the pick.
So I wondered, aloud, whether Poles had done so since. He laughed.
"I think my actions have said enough," he said.
Indeed, in trading the first pick in the draft to Carolina (for the ninth and 61st picks this year, a first-rounder in 2024, a second-rounder in '25 and receiver DJ Moore), the message was clear: Fields is Chicago's guy for 2023, with a real chance over the next 10 months or so to make himself the Bears' guy for a lot longer than that, too.
But in doing his job, Poles had to investigate, well, everything—starting with the moment Texans QB Davis Mills hit Jordan Akins for the two-point conversion that moved Chicago past Houston in the draft order Jan. 8—before he could give Fields real clarity, implicit or otherwise, on his status. This started with a conversation on the day after the Bears locked down the first pick.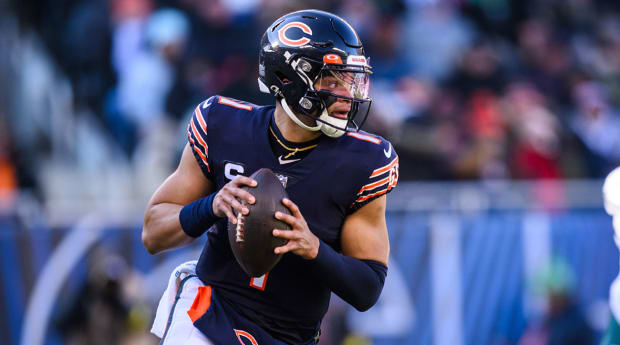 "The exit meetings, we just told him where we think he can improve and that we're also proud of him for what he did accomplish," Poles says. "I think the biggest thing was really just staying in contact with him and his agent, [David] Mulugheta, and just letting him know that we're gonna figure this thing out—we're going to communicate as we move forward because I just knew that with all the noise, he's going to hear different things. At the end of the day, Justin is still a young kid. I don't care how mature you are, that stuff affects you.
"I think he knew all along that there's a strong chance we're going to really lean toward seeing what he's capable of doing and how much he can improve. I think he could feel that, and through our conversations, he knew that was important to us. But at the same time, in this league, things change so much, it's hard to give definitive answers and say, This is what we're doing.
The reason?
"Because the tape goes around with my staff and our coaches, and if it's universally known, there's someone special special, and it blows us away, well, that's what this league is about," Poles says. "I couldn't give him the definitive answer of yes, we're rolling with you next year, [because] we had to do the full deal."
On Thursday, Poles helped guide us through the full deal—from his perspective.
The jumping off point was that Poles and Eberflus had already established a level of trust with Fields. And one example actually correlated directly to the circumstance the Bears were in with their quarterback in mid-January.
It happened last April, with Poles not wanting there to be any mixed messages if he didn't get Fields help on offense early in the draft.
"I brought Justin in the draft room and I showed him our board in April and how I thought it was gonna play out, because I knew the media was going to be asking me about not drafting a receiver," Poles says. "I explained to him how I use the value on the board to drive those decisions. I showed him how it was going to fall, because I wanted him to hear it from me before it happened. That's important for me because I don't want the guy to question whether or not I am trying to get him better.
"I want him to know that I'm building a football team and how I'm doing it."
So when Poles selected Washington corner Kyler Gordon and Penn State safety Jaquan Brisker, before taking Tennessee receiver Velus Jones Jr. in the third round, Fields didn't have to guess what the team was thinking. Poles knew that was important after watching Andy Reid & Co. operate during his time in Kansas City.
"That's really how Andy [Reid] and [Brett] Veach move," he says. "It starts with Andy. When the Mahomes things popped up, he always communicated with Alex [Smith]. … I thought that was a really cool thing for him to do out of respect for the players that are in your building. As Pat took over, we were always transparent with Pat. A lot of these quarterbacks, they don't want to be GMs. They don't want to pick players. They want to have some awareness."
And just as Fields knew the deal last year, with Poles spending his first two picks on DBs, the quarterback knew not to get worked up over any rumors about the Bears' intentions this year.
That set the stage for things to accelerate fast on the trade. Soon after the season ended, Poles had farmed out some research to the team's analytics group to properly value the pick, but even then, he never really had the eureka moment where he decided to trade the pick. In fact, when calls started coming in on it from other teams, he still hadn't said in his head, Yup, I am dealing this thing away.
But what he had started to think about by then was the framework for what a trade would take.
"After doing the research with my analytics group, I really wanted it to be a situation where this helps us now, but also helps us down the road," Poles says. "Obviously, adding uptick in 2023 was critical, but I also want premium picks, or what could be premium picks in '24 and '25, just to continue to add draft capital down the road. That was important, again, just to continue to make up for some of the trades that the organization did before, to try to find a quarterback and continue to add good players in this draft."
That's where the idea of first-round picks for the next three years, as well as a second-rounder this year and down the road (a total of five picks) came up as a target, with the knowledge that it could be affected by how far the Bears were willing to drop—and it may take two trades to get there. The one thing, Poles continued, that might get him to move off that spot was what he called a "booster" to a deal.
"The booster was the player that would come with it," Poles says. "For sure, a known talent that I was gonna get, if it pushed me outside of a certain value bucket. If nine pushed me two spots out of where I thought I could be 100% sure I was gonna get a blue-chip player, the player that was going to be thrown in was going to have to enhance our roster enough to make me feel comfortable with going to that next level in the value system."
In short, as Poles mentioned to me a couple of weeks ago, he had seven players ranked in his first group. He'd still probably get one with the ninth pick (given the likely run on quarterbacks), but trading that far down meant he couldn't be assured of it. He gave Panthers GM Scott Fitterer a list of three boosters, and Moore was on it.
Moore was attractive to the Bears for a number of reasons. First and foremost, he's a really good player. He was also on a reasonable contract, locked up for three more years, and he would help simultaneously amplify Fields and help the Bears further clarify their quarterback's NFL ceiling. Then, there are the specifics.
"It was two things," Poles says. "Coming out, I just remember how strong he played. He's an impact player, a receiver that could play inside, outside separating routes. But then he has a level of strength to him that I really admired. On top of that, the person was outstanding. He's great for the locker room. He's a worker, grinder, not a lot of noise or distraction, just … he's a dude. That part was important to me. In the pros, just the level of consistency through adversity stood out to me. I always talked about when I took the job and still do.
"I think resilience is one of the most underrated traits of a team and of players. If you go back to our KC times, that year we won the Super Bowl, we were down multiple touchdowns in every single game, including the Super Bowl, and the level of resilience was insane. I want as many players that have that trait as possible. And for him to be so consistent through different quarterbacks, different coaches, I thought was really cool."
Combine Moore's availability with a willingness to deal picks, and Carolina emerged as a favorite.
The market early was limited. The Bears talked to the Colts ahead of the trade (Poles and Indy GM Chris Ballard worked together in Kansas City and remain close), but Indianapolis wanted to go through the full process with the quarterbacks and wasn't convinced enough to move. The Raiders came in hot, but Poles and Vegas GM Dave Ziegler hit some bumps on the package of picks Ziegler would send east.
At one point, Poles thought he'd trade down to the second pick with Houston, then down again to the ninth pick with Carolina. The problem was that negotiations with the Texans were dragging—doubt crept in that it'd go where Poles wanted it to, and the Panthers were acting with urgency.
"There were some other opportunities, some hopping around to go from one to two, two to nine, that would have been pretty cool," Poles says. "The thing was, instead of being greedy and trying to do all kinds of fancy things, I felt like, when we hit a certain point, I was satisfied."
And satisfied, in part, because of his relationship with Fitterer, born of the years the two spent together rising through the ranks as scouts, and also because, since Poles interviewed with Carolina in 2020, he had a good feel for how focused owner David Tepper was on finding a quarterback.
"Scott's persistence and his anticipation was probably ahead of everybody else," Poles says. "I knew it meant a lot to him. He was willing to work with me, he was willing to have transparency through the process. Our relationship was important. Not that we're super close, but we've been around each other enough, over the years, just scouting on the road and doing college work, that we had a good relationship. I could trust him."
And as the Bears and Panthers hit the home stretch, that showed up again. Carolina, after seeing the veteran quarterback deals getting done right after the combine, redoubled its commitment to get control of the draft. So early that week, when the Houston scenario (with the Bears going to No. 2 then to No. 9) seemed more likely, Fitterer stuck it out. Sure enough, later in the week, the Panthers proved to be the last team standing willing to pay the price and willing to not wait until later in the process to pull the trigger.
The last call happened on the morning of March 10, pushing the deal over the goal line.
"It was a relief," Poles says. "I don't know if people talk about it enough, and I don't have enough pride to hide it—having that first pick there, it does have a weight to it because you're trying to figure out what you want to do and what's best for your organization. There's a lot of nerves that come with it, too. But just being able to help our organization and pass that off to Scott was a cool moment for both of us."
---
And so Poles will now be judged on what he has put around Fields, how this year's QBs compare to Fields, what he does with all the picks coming back and how Moore plays. It's a lot, as Poles says, and there was a lot to learn, too. Coming out of it, he says he'll take lessons on how some other teams operate and, again, the importance of relationships in the league.
But the biggest thing? It's how important everyone in his own organization was, and how vital it was for him, Eberflus and their staffs to work together.
"As front office people and executives, we have an obligation to educate our coaches on why we're doing what we're doing and what we're thinking," Poles says. "Because then they have an understanding of it. I think it allows them to see the big picture like you do, or even to weigh in on it and ask the right questions. Just like in season, some things, we question what they do and ask for them to educate us on why they're doing what they're doing.
"'Flus and I have an unbelievable relationship to sit down and kind of map out where we want this thing to go and how we're going to do it. The amount of trust that he has in me has been incredible, because when you make the trades like I did when I first got here, some of the defensive guys, you need a complete buy-in by your coach to continue to build and get a team to the standard it needs to be without complaining. … They get it."
Along those lines, the coaches did take a look at the quarterbacks that could go with the No. 1 pick, as did the scouts, to see if that special special Poles referenced was there. But, per Poles, it wasn't outside of anything they'd normally do, which in the end was the key to the whole thing.
Because at that point, with the work done, Poles actually could say, clearly, that his actions said more to Fields, and everyone else, than his words ever could.