Victrola and Crosley record turntable comparison
The fact that Taylor Swift's "Midnight" album has several vinyl versions means the format is still alive and well. However, it's no longer the '70s, so most people do not have a huge multicomponent stereo that takes up half of their rec room. Instead, they tend to listen on smaller, more compact turntables.
Our research zeroed in on two highly rated suitcase turntables: the Crosley Cruiser Plus Turntable and the Victrola Vintage 3-Speed Record Player. To determine the best, we had our experienced product tester use both record players in real-world situations. Our tester compared these two specific models to see which offered a better value for the consumer. Here's what we found.
Key features to consider when shopping for a suitcase turntable
A turntable is a precision instrument. If it doesn't spin consistently at precisely the right speed, the music won't sound right. It's a good idea to educate yourself on the features of record players if you've never had one before. Besides the actual quality of the motor, there are several features to consider when shopping for a suitcase turntable.
Ease of operation: Most suitcase turntables are intuitive. There's a knob to turn it on and make it louder and a switch that lets you change speeds. You may also have a switch that allows you to set input, such as Bluetooth, line-in or phonograph. The turntable should also have a cue level that lets you raise and lower the tonearm without damaging the LP.
Balanced tonearm: The tonearm needs to be balanced so the needle rides the groove. If the needle is too heavy, it will distort the sound and could damage the groove on the album. If it's too light, the needle won't stay in the groove if it's too light. It will skip or skate across the record, causing a great deal of frustration.
Sound quality: Suitcase turntables are typically not high-end items. They're meant to be an affordable all-in-one portable record player, so the audio quality is not the highest quality. However, you do want the audio to be of high enough quality to provide a suitable listening experience without connecting external speakers.
Input/output versatility: As noted, suitcase turntables are designed to be standalone units. You can put the record on and play it without needing other equipment. However, most models have output options, so you can plug into more robust speakers or use headphones if desired. The higher-priced models may even offer Bluetooth connectivity, allowing you to play music through a wireless speaker or a pair of wireless headphones or earbuds. Additionally, many models let you connect your phone or another device to the turntable so you can stream your playlists through the record player's built-in speakers.
Rugged and portable: A good suitcase turntable should be well-built and lightweight so it's easy to transport. It should also have a sturdy base with feet that absorb vibrations to give you the best playing experience in the widest variety of situations.
Suitcase turntables worth considering
Our experience with Victrola Vintage 3-Speed Record Player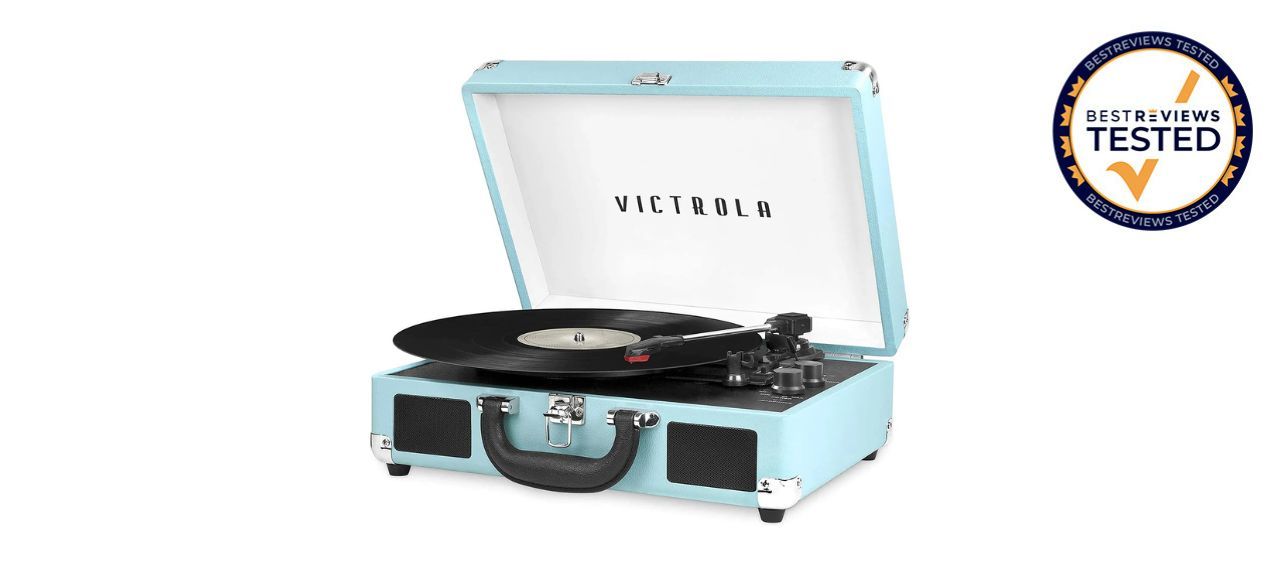 When testing, we found the Victrola Vintage 3-Speed Record Player very easy to set up. After removing packaging that protected delicate parts during shipping, we didn't even need to read the instructions. There's a volume knob that also turns the unit on and off, and a conveniently located speed control switch lets you select between 33 1/3, 45 and 78 rpm. You use the cue lever to raise and lower the tonearm to place the needle safely on the record. The pastel blue case is lightweight and has a wonderful vintage look.
Regarding audio quality, we noticed that the speakers didn't offer the most robust sound. However, we've heard better and we've heard worse, so it falls right in the middle for expected quality at this price point. Additionally, if you want to connect to external speakers, you must use an RCA cable, as there's no way to send a wireless signal. The tester noted that they thought the advertisement of Bluetooth connectivity on the box was a little deceiving, because you can't connect external Bluetooth speakers to this record player. You can only use the Bluetooth functionality for playing music from your phone through the player's internal speakers.
Sold by Amazon and Home Depot
Why we recommend Victrola Vintage 3-Speed Record Player
Despite the average sound quality of the speaker, we found this Victrola Vintage 3-Speed Record Player to be a solid value. We loved the vintage design, the intuitive operation and the portability. We also liked that there was an RCA jack in the back so we could connect other speakers if we wanted to improve the audio quality.
One minor design feature made a huge difference over other similarly priced models. We loved that the power plug on this record player was located in the back. With some of the other turntables we tested, you could only shut the lid if the record player was unplugged.
Overall, this model is an excellent starter. It offers the best bang for your buck compared to any other model we tested. It provides a hassle-free experience that will be enjoyable enough to get a novice hooked on the thrill of listening to music in a vinyl format.
What is the Crosley Cruiser Plus Turntable?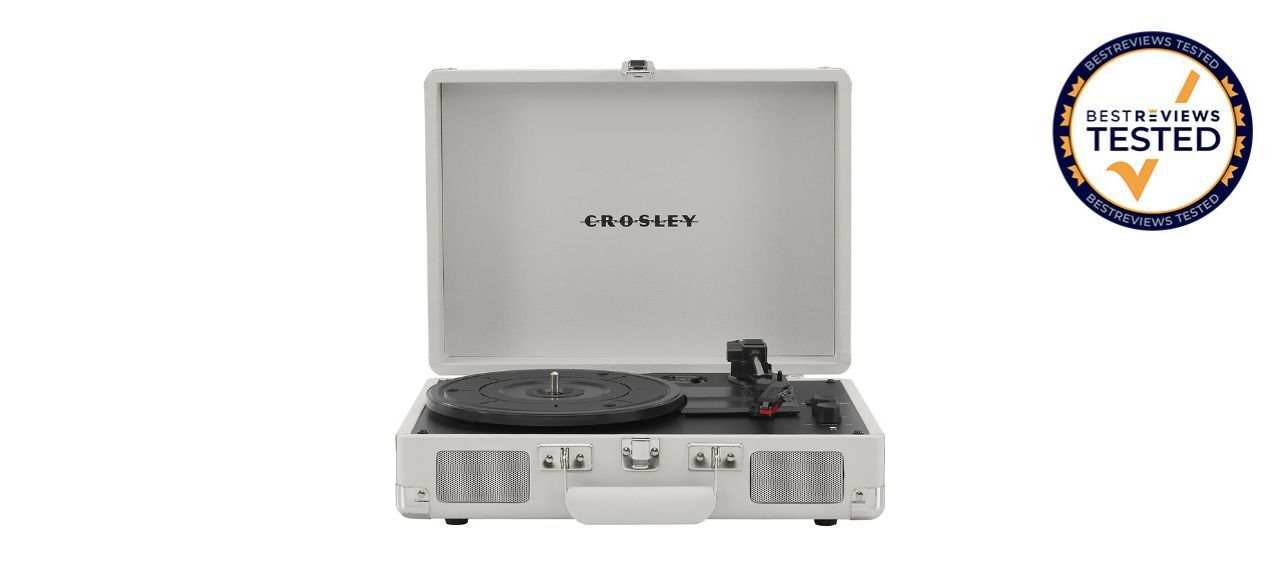 The Crosley Cruiser Plus Turntable is a suitcase record player that offers a little more than some models and a little less than others. We had no trouble setting it up. After unpacking, simply put your record on, select the proper speed and turn it on. The cue lever lifts higher than other record players in this price range, which makes it much easier to change the needle.
While this model gets louder than other models we tested, the downside is that it loses audio quality at about 50% volume. However, on the plus side, you can easily stream your music to external Bluetooth speakers, giving you a much more varied listening experience.
Sold by Amazon
Why we recommend the Crosley Cruiser Plus Turntable
Despite the problems with sound quality as the volume increases, this is a suitable starter record player. Besides the higher range of the cue lever, this model has a built-in pitch knob that gives the user greater control over the precise speed. We estimate it ranges from nearly half speed to about double speed. Although the practical aspect of this feature might not be essential to most, it's an excellent tool for experimenting with sound to create a unique audio experience.
The other aspect we love is this unit's ability to stream to a wireless speaker. This feature raises the price a little, but not enough to make it a burden. Further, the flexibility you achieve via wireless connection can elevate this starter model to something that could make it part of your permanent home entertainment system.
If you only want this as a portable, self-contained starter model, the price is a little high for the performance. However, if you pair it with a quality speaker, this suitcase turntable will satisfy.
Want to shop the best products at the best prices? Check out Daily Deals from BestReviews.
Sign up here to receive the BestReviews weekly newsletter for useful advice on new products and noteworthy deals.
Allen Foster writes for BestReviews. BestReviews has helped millions of consumers simplify their purchasing decisions, saving them time and money.
Copyright 2023 BestReviews, a Nexstar company. All rights reserved.