(STACKER) — Stacker compiled a list of localities with the most expensive homes in Virginia using data from Zillow.
These localities are ranked by the Zillow Home Values Index for all homes as of April 2022. The charts in this story were created automatically using Matplotlib.
The most expensive locality on the list has a typical home value of $1,504,051 which is 311% higher than the state average of $366,368.
All 30 localities on the list are in the Washington-Arlington-Alexandria metro area.
Read on to see which ones made the list: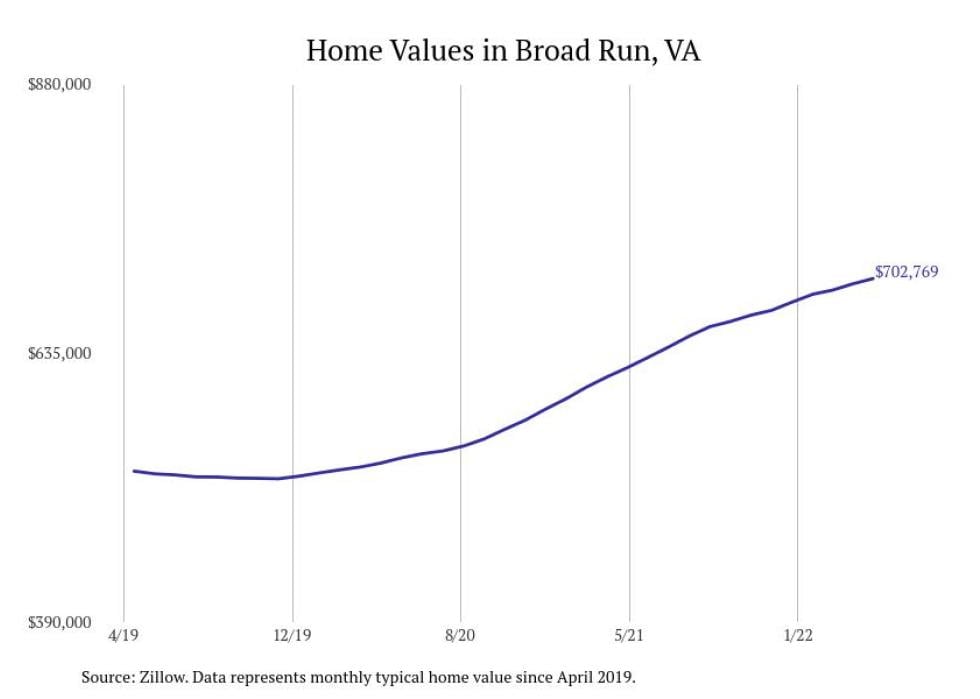 #30. Broad Run
– Typical home value: $702,769
– 1-year price change: +13.1%
– 5-year price change: +44.2%
– Metro area: Washington-Arlington-Alexandria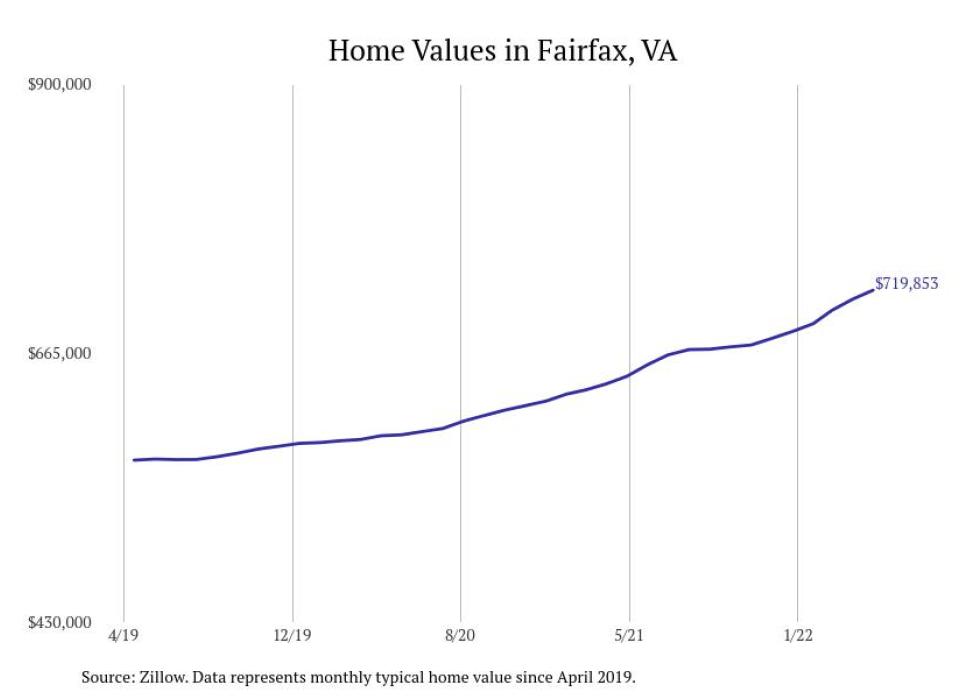 #29. Fairfax
– Typical home value: $719,853
– 1-year price change: +11.7%
– 5-year price change: +33.8%
– Metro area: Washington-Arlington-Alexandria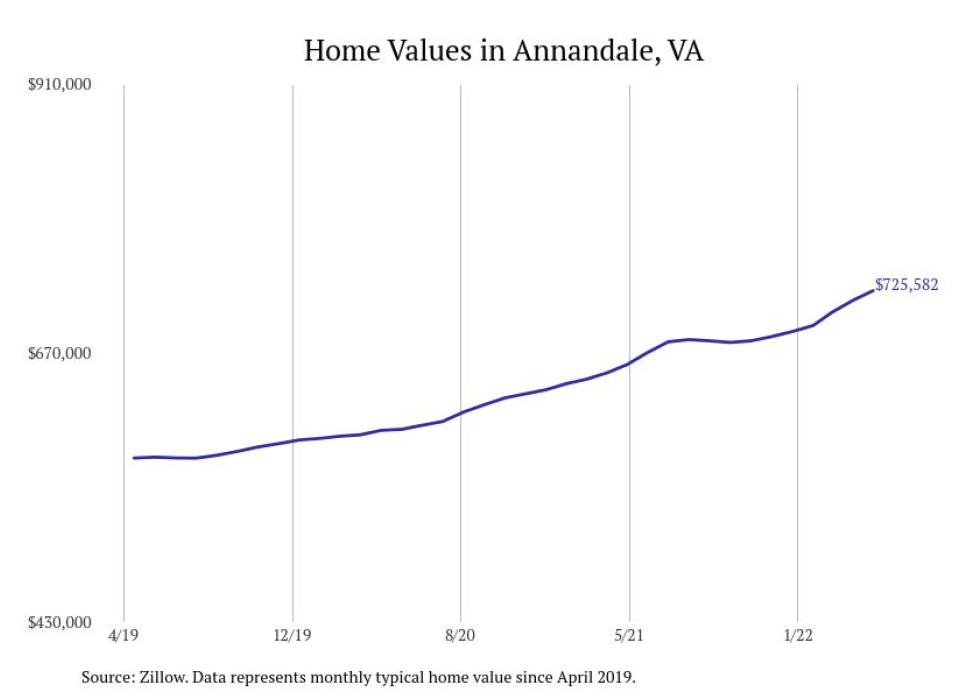 #28. Annandale
– Typical home value: $725,582
– 1-year price change: +10.0%
– 5-year price change: +33.7%
– Metro area: Washington-Arlington-Alexandria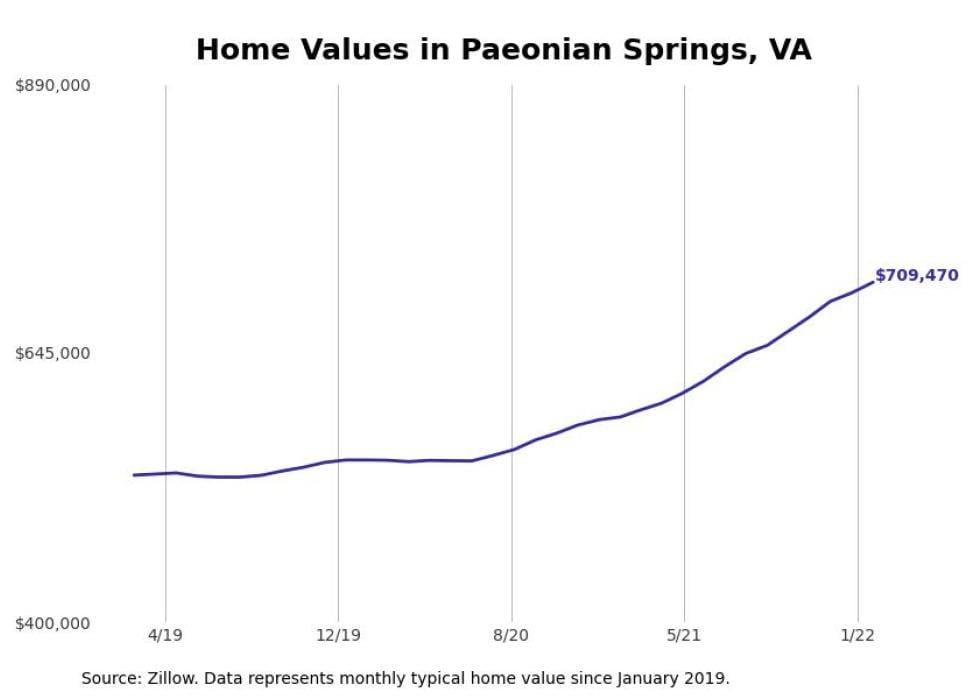 #27. Paeonian Springs
– Typical home value: $736,095
– 1-year price change: +20.9%
– 5-year price change: +54.6%
– Metro area: Washington-Arlington-Alexandria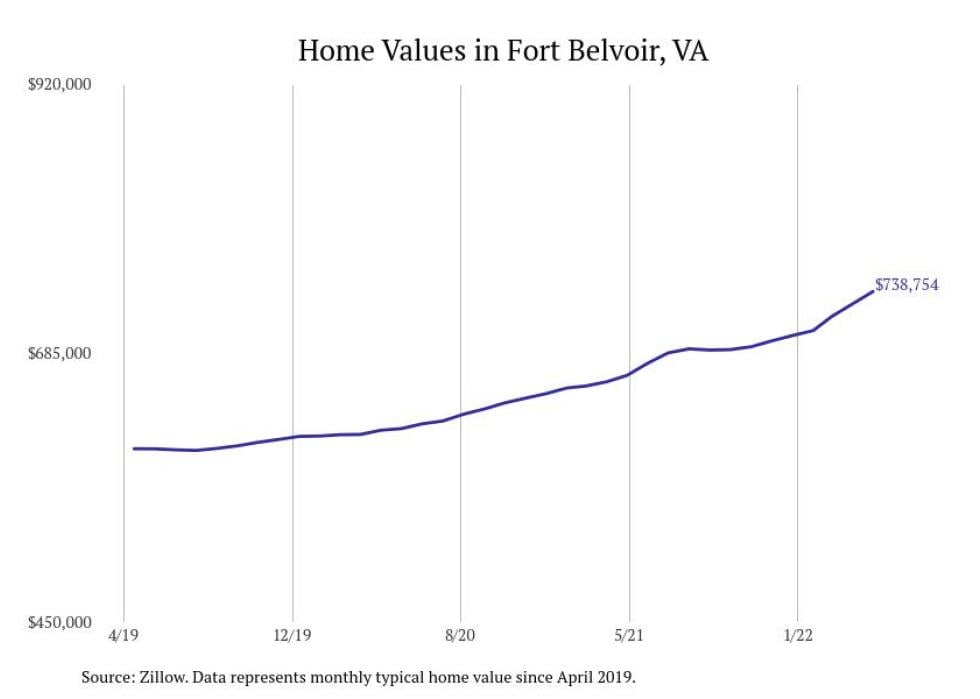 #26. Fort Belvoir
– Typical home value: $738,754
– 1-year price change: +11.0%
– 5-year price change: +27.8%
– Metro area: Washington-Arlington-Alexandria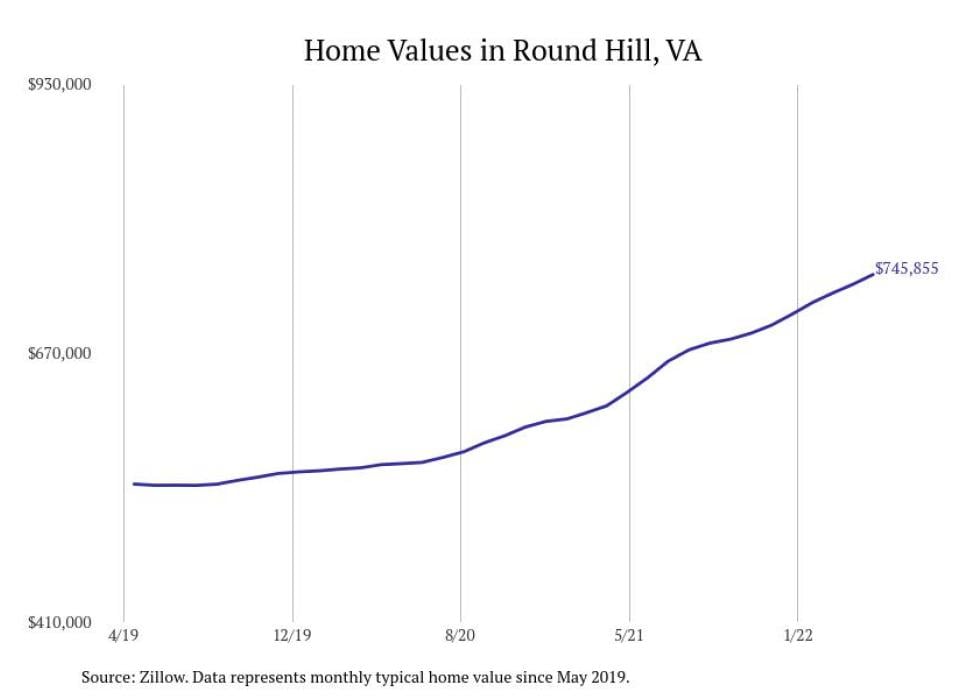 #25. Round Hill
– Typical home value: $745,855
– 1-year price change: +18.0%
– 5-year price change: +46.9%
– Metro area: Washington-Arlington-Alexandria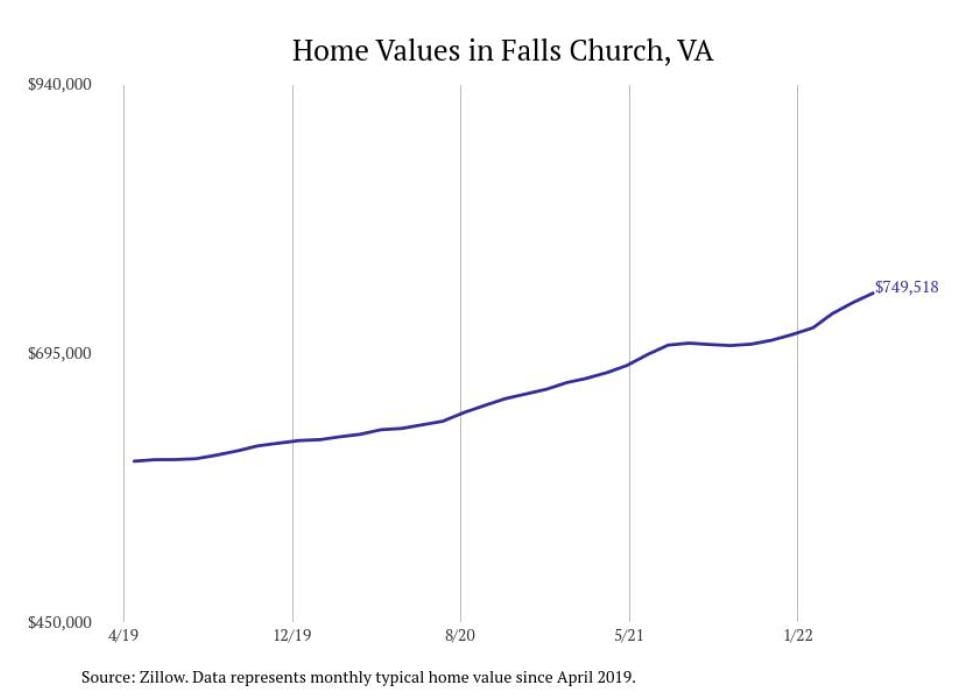 #24. Falls Church
– Typical home value: $749,518
– 1-year price change: +9.6%
– 5-year price change: +33.8%
– Metro area: Washington-Arlington-Alexandria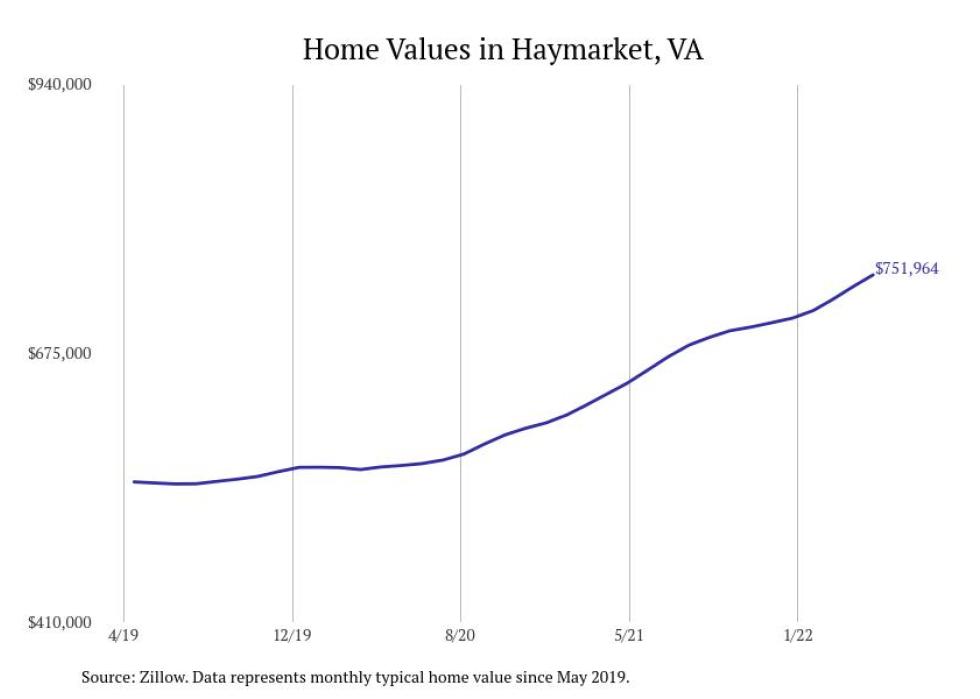 #23. Haymarket
– Typical home value: $751,964
– 1-year price change: +16.6%
– 5-year price change: +44.4%
– Metro area: Washington-Arlington-Alexandria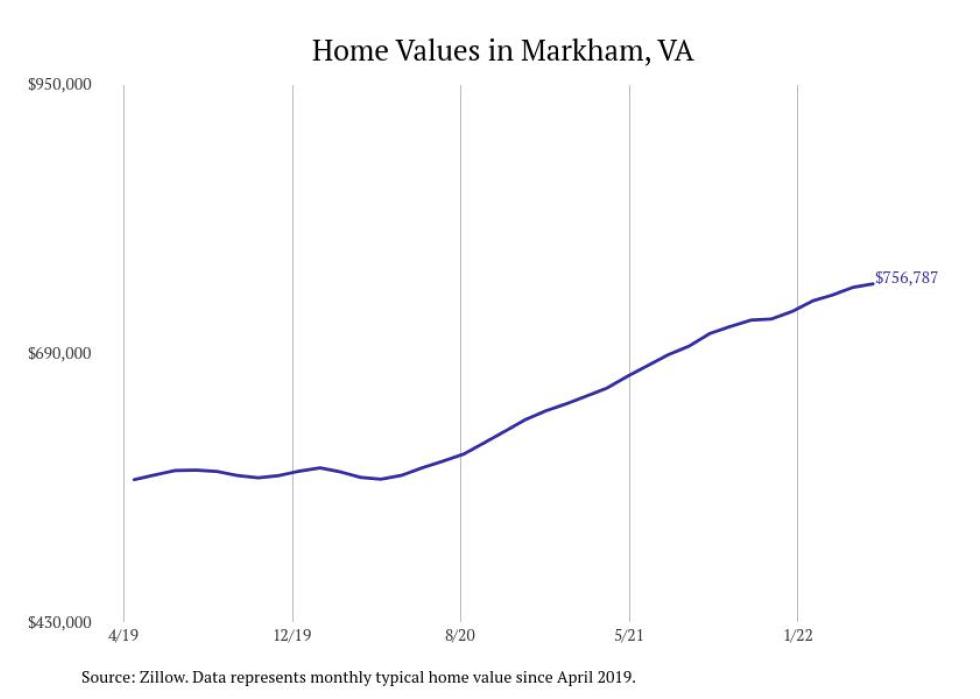 #22. Markham
– Typical home value: $756,787
– 1-year price change: +13.4%
– 5-year price change: +45.9%
– Metro area: Washington-Arlington-Alexandria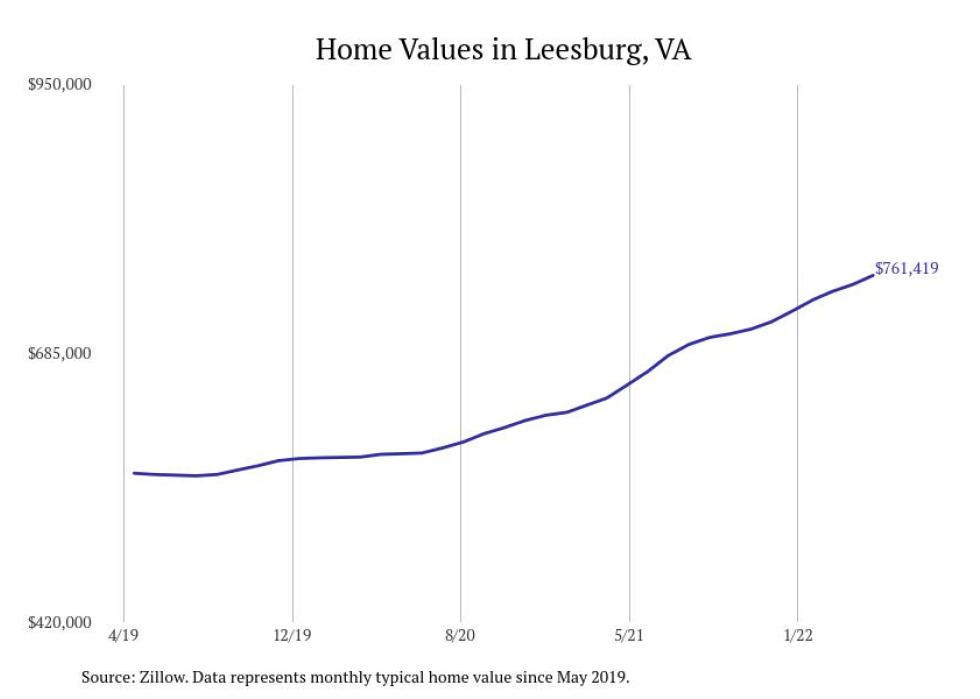 #21. Leesburg
– Typical home value: $761,419
– 1-year price change: +16.5%
– 5-year price change: +46.9%
– Metro area: Washington-Arlington-Alexandria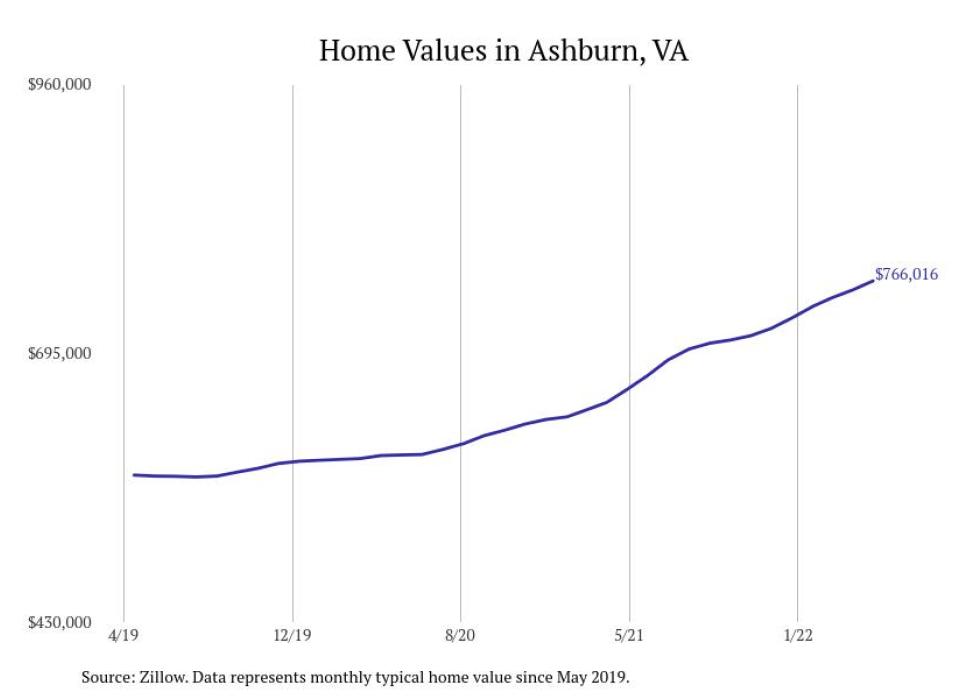 #20. Ashburn
– Typical home value: $766,016
– 1-year price change: +16.2%
– 5-year price change: +45.2%
– Metro area: Washington-Arlington-Alexandria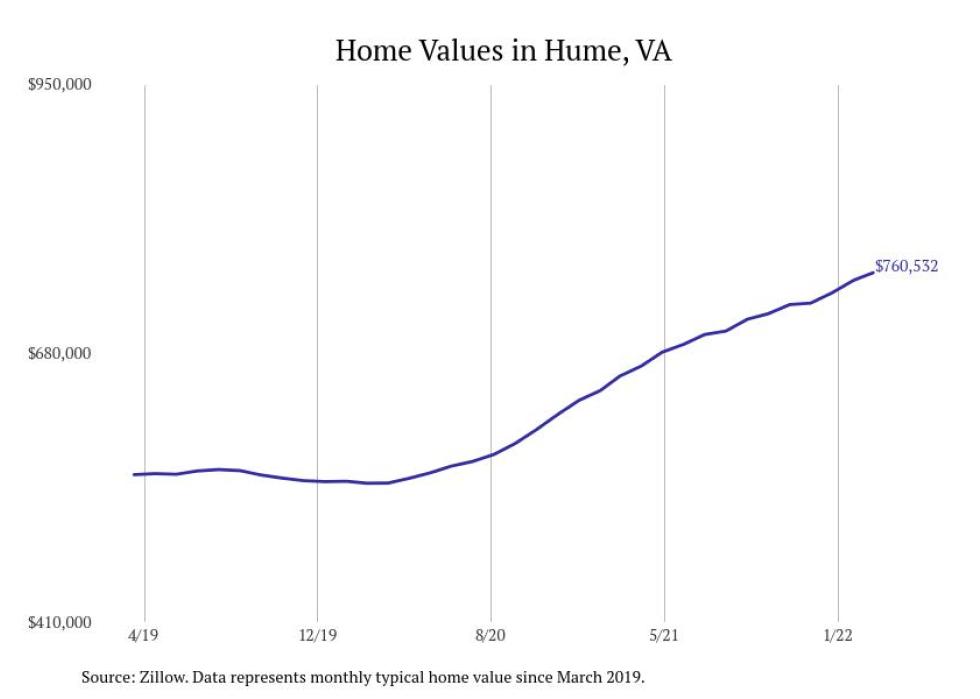 #19. Hume
– Typical home value: $766,745
– 1-year price change: +13.2%
– 5-year price change: +51.6%
– Metro area: Washington-Arlington-Alexandria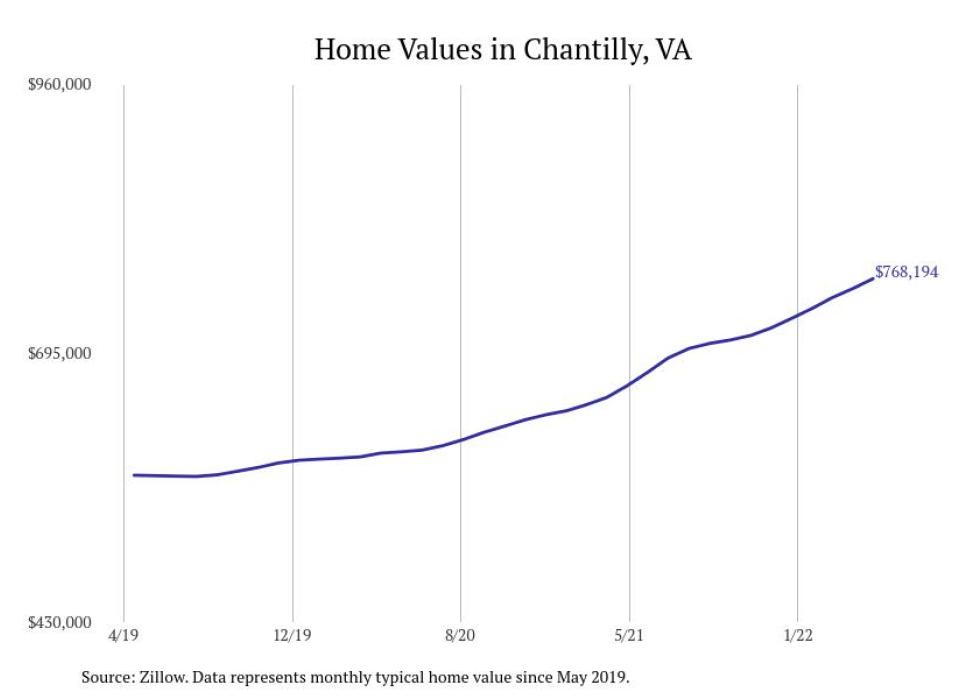 #18. Chantilly
– Typical home value: $768,194
– 1-year price change: +15.9%
– 5-year price change: +45.1%
– Metro area: Washington-Arlington-Alexandria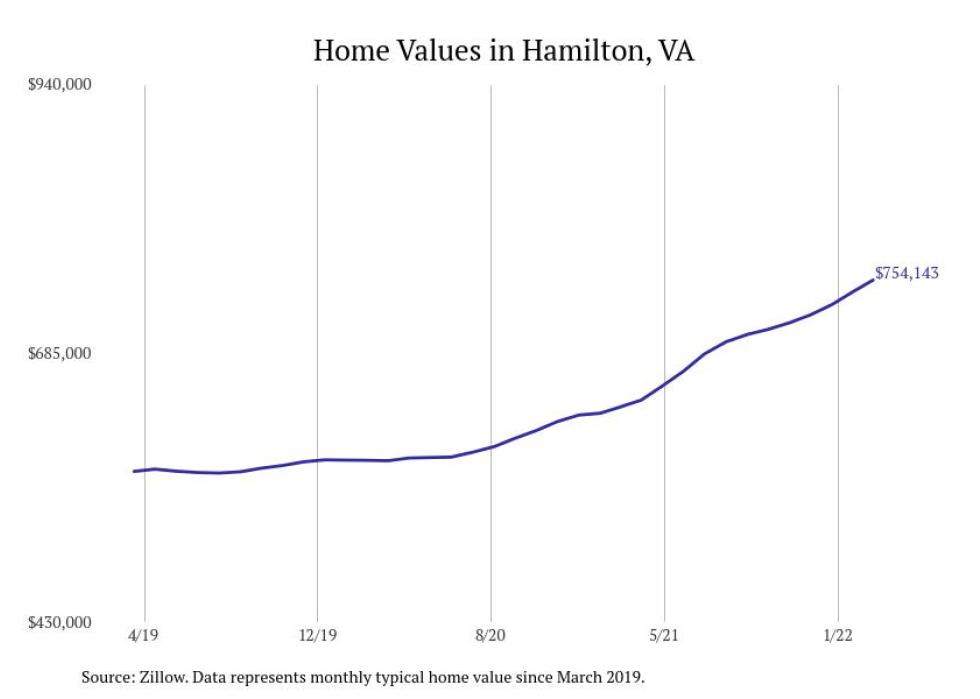 #17. Hamilton
– Typical home value: $772,635
– 1-year price change: +18.3%
– 5-year price change: +47.5%
– Metro area: Washington-Arlington-Alexandria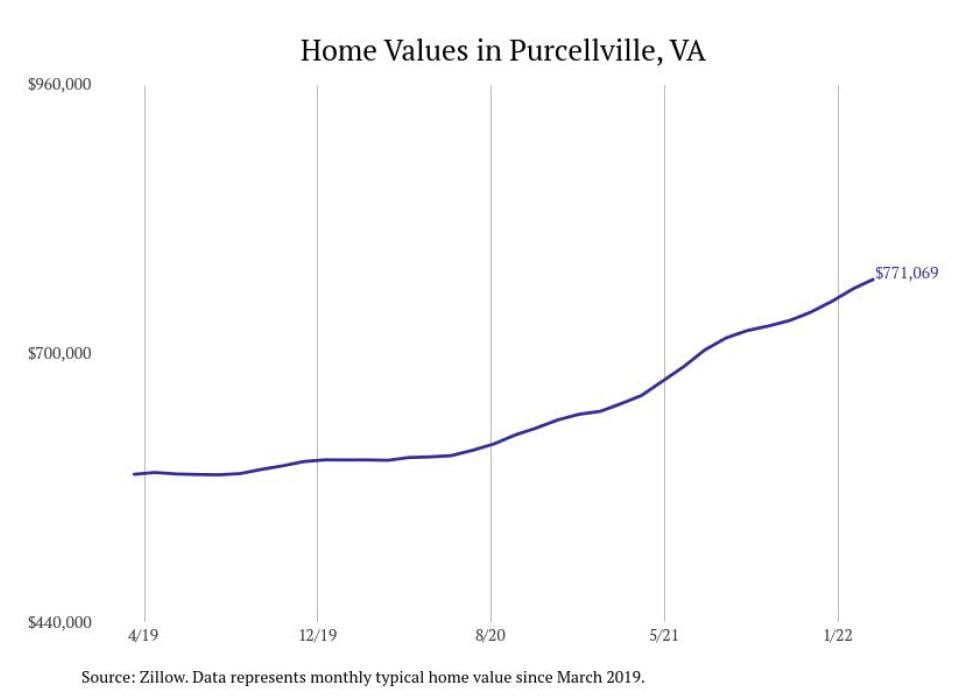 #16. Purcellville
– Typical home value: $788,982
– 1-year price change: +17.1%
– 5-year price change: +46.5%
– Metro area: Washington-Arlington-Alexandria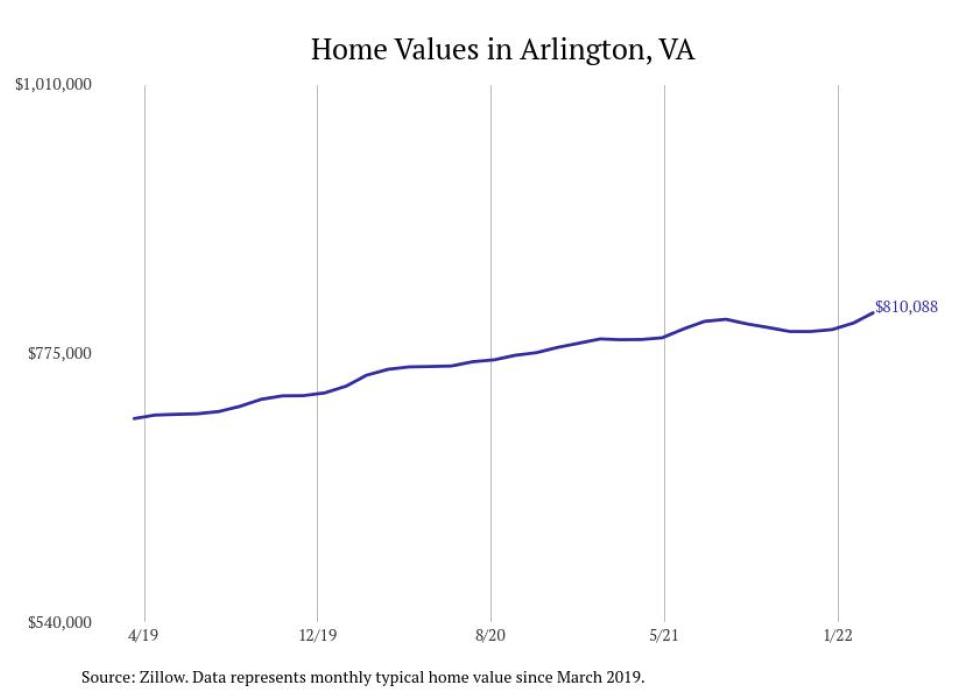 #15. Arlington
– Typical home value: $827,172
– 1-year price change: +4.6%
– 5-year price change: +24.3%
– Metro area: Washington-Arlington-Alexandria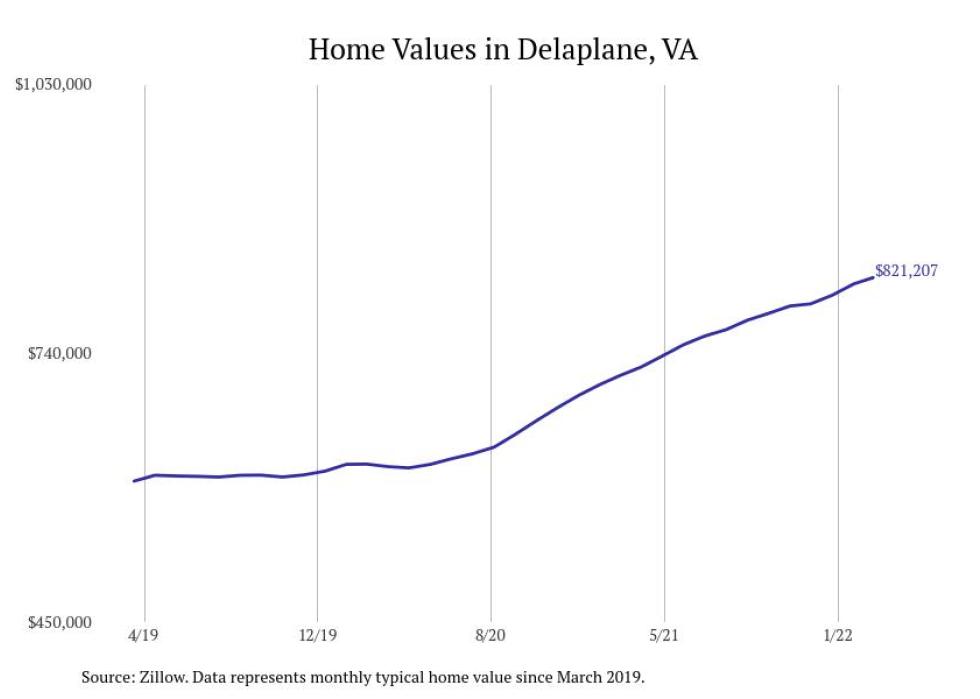 #14. Delaplane
– Typical home value: $836,433
– 1-year price change: +12.4%
– 5-year price change: +46.8%
– Metro area: Washington-Arlington-Alexandria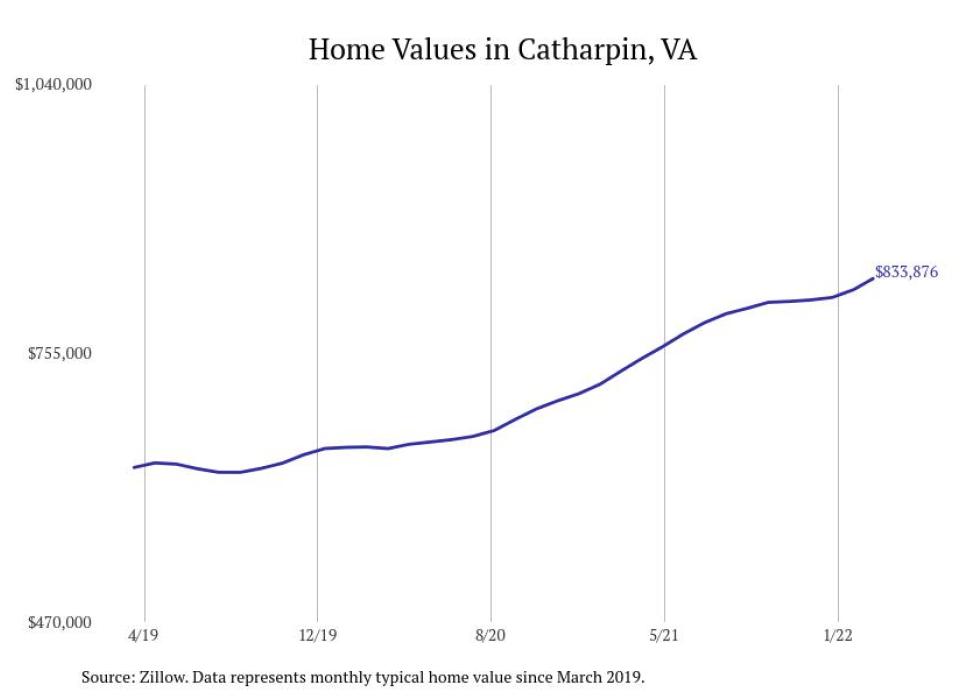 #13. Catharpin
– Typical home value: $869,381
– 1-year price change: +13.6%
– 5-year price change: +42.4%
– Metro area: Washington-Arlington-Alexandria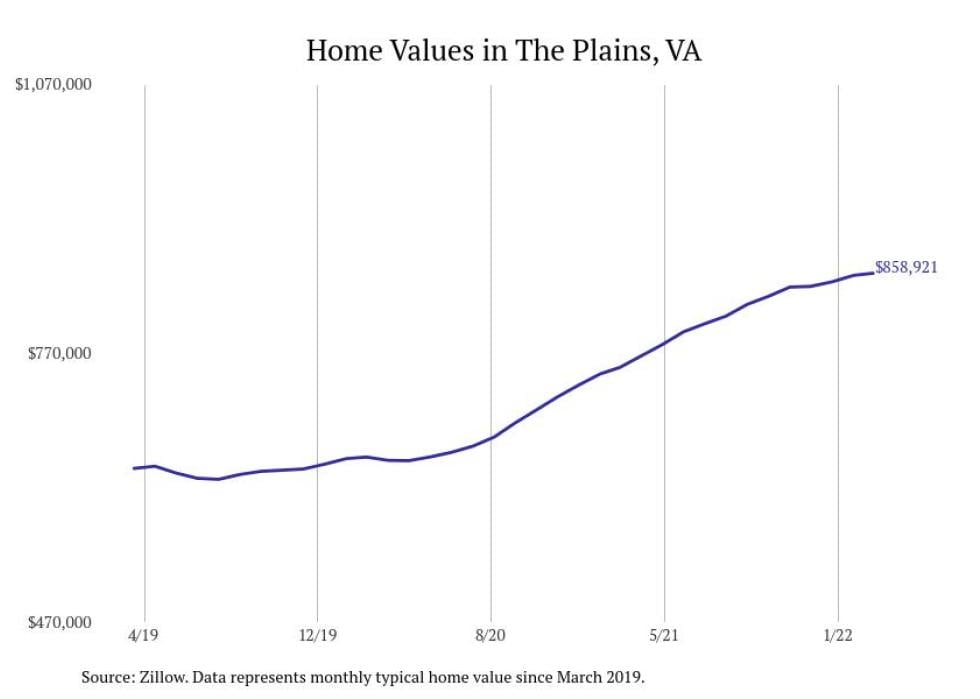 #12. The Plains
– Typical home value: $870,724
– 1-year price change: +11.0%
– 5-year price change: +49.4%
– Metro area: Washington-Arlington-Alexandria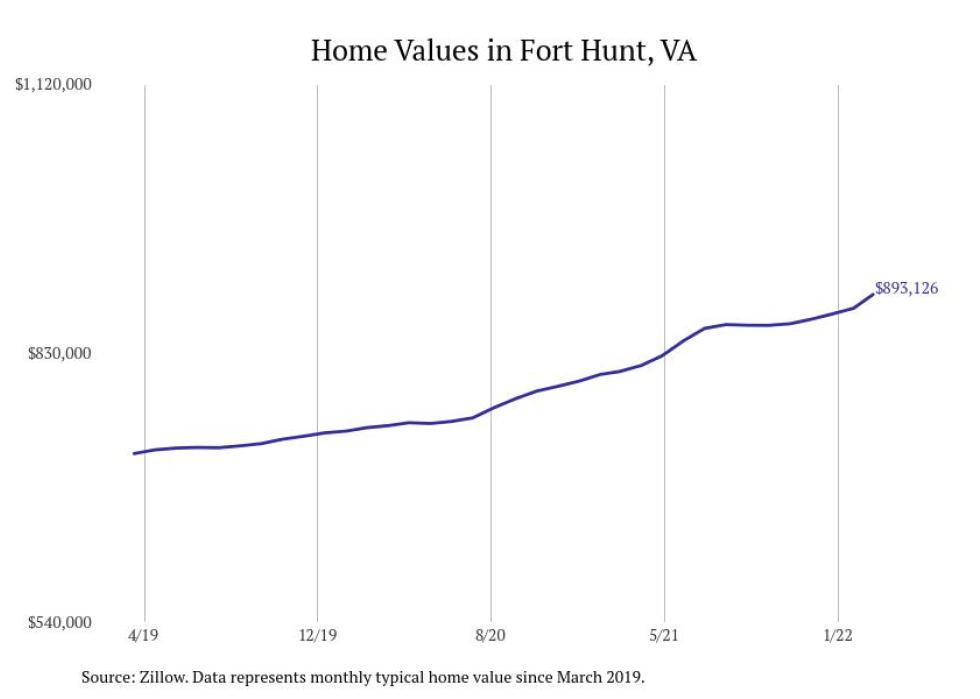 #11. Fort Hunt
– Typical home value: $916,448
– 1-year price change: +10.7%
– 5-year price change: +30.6%
– Metro area: Washington-Arlington-Alexandria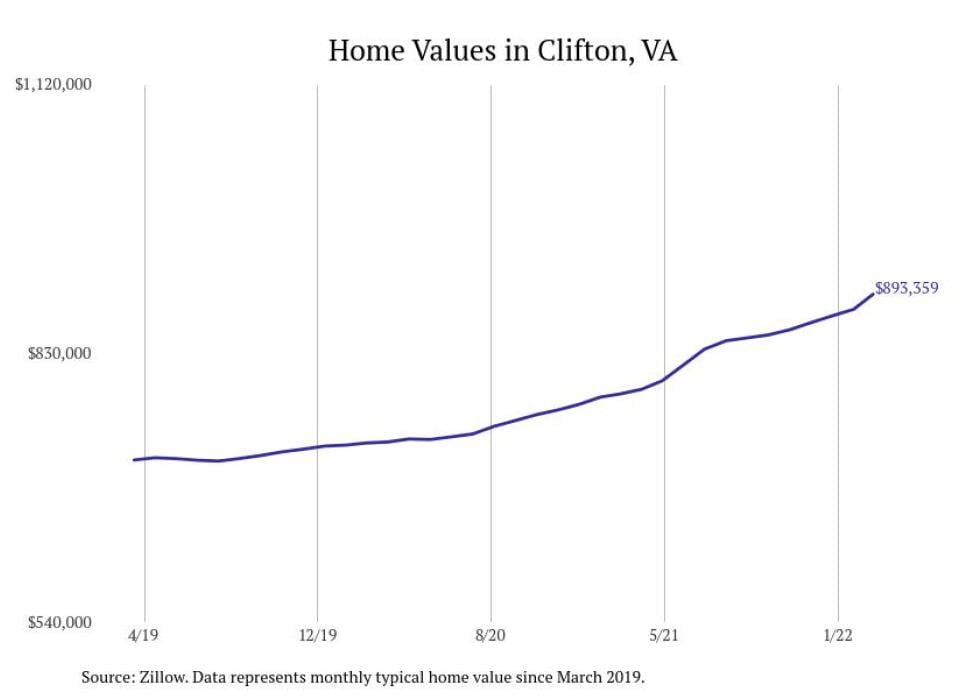 #10. Clifton
– Typical home value: $923,918
– 1-year price change: +15.1%
– 5-year price change: +35.1%
– Metro area: Washington-Arlington-Alexandria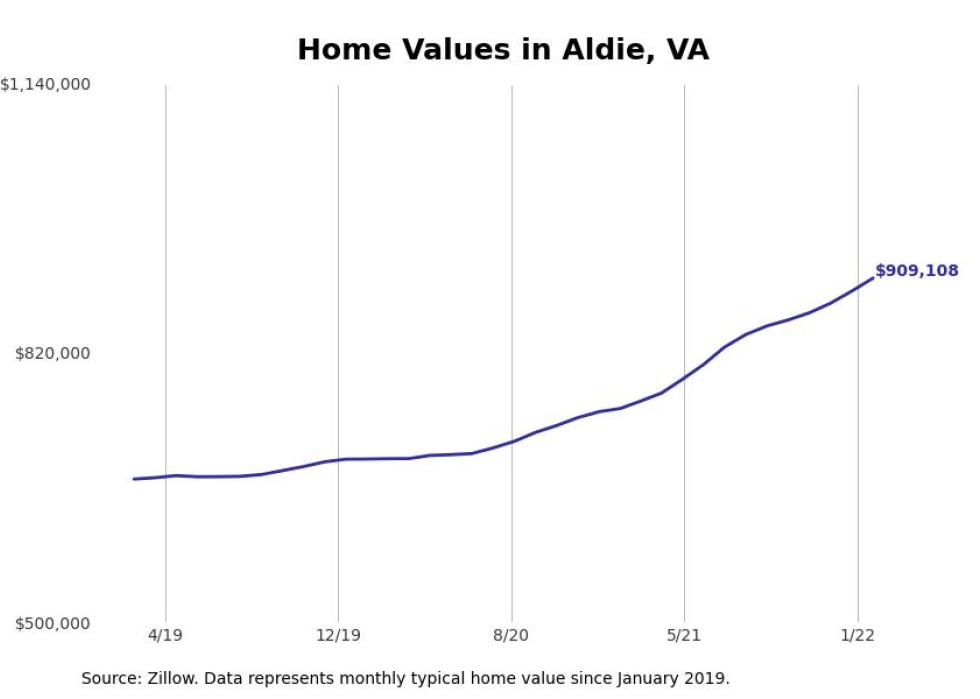 #9. Aldie
– Typical home value: $955,063
– 1-year price change: +19.7%
– 5-year price change: +50.9%
– Metro area: Washington-Arlington-Alexandria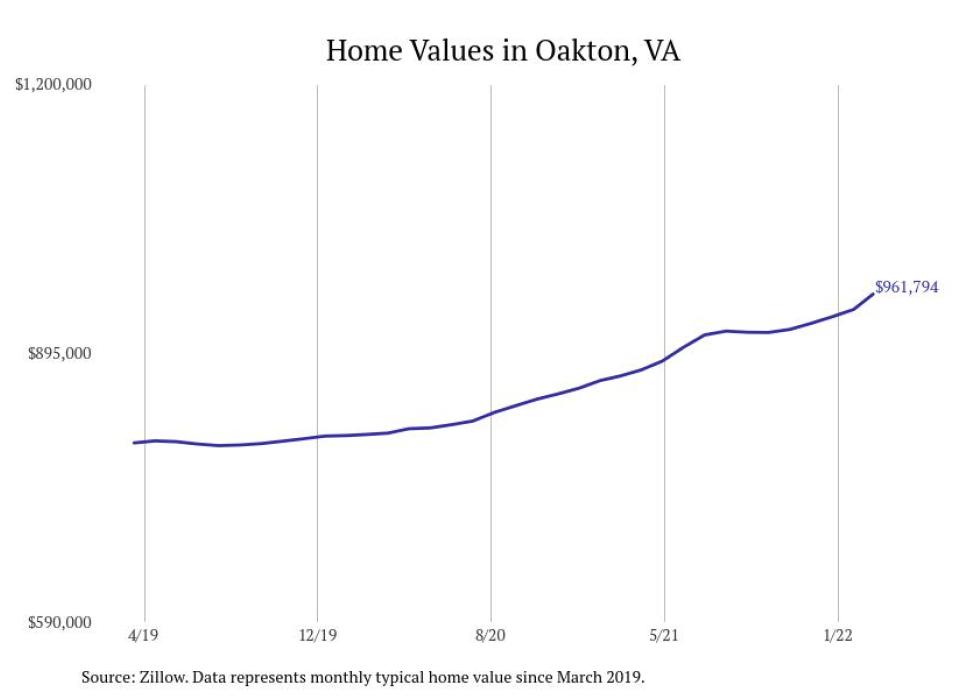 #8. Oakton
– Typical home value: $989,790
– 1-year price change: +11.6%
– 5-year price change: +29.0%
– Metro area: Washington-Arlington-Alexandria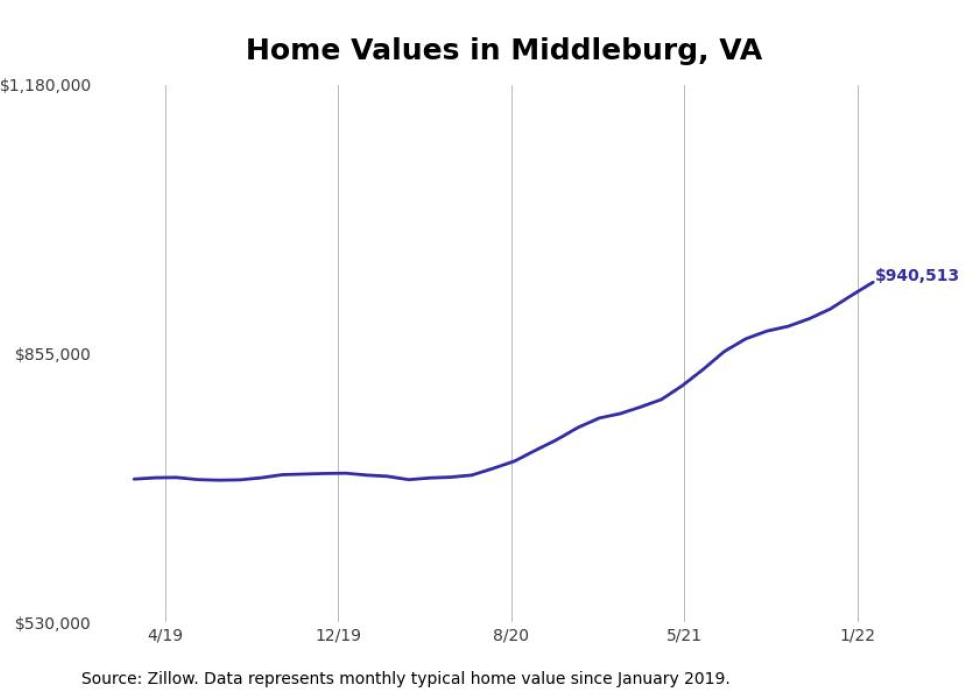 #7. Middleburg
– Typical home value: $990,965
– 1-year price change: +18.6%
– 5-year price change: +47.8%
– Metro area: Washington-Arlington-Alexandria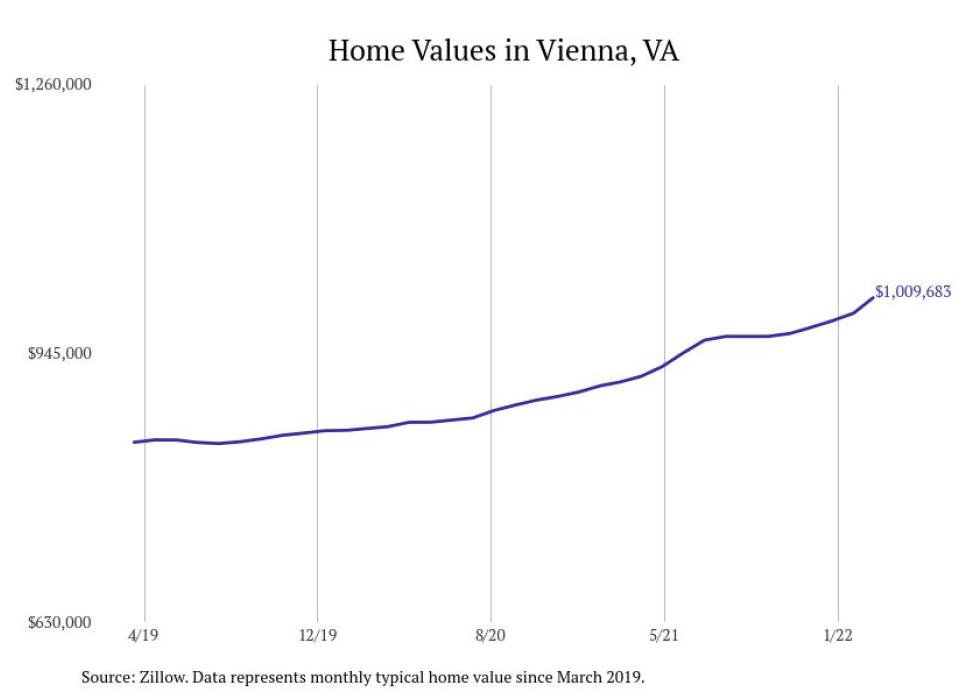 #6. Vienna
– Typical home value: $1,041,729
– 1-year price change: +12.0%
– 5-year price change: +29.7%
– Metro area: Washington-Arlington-Alexandria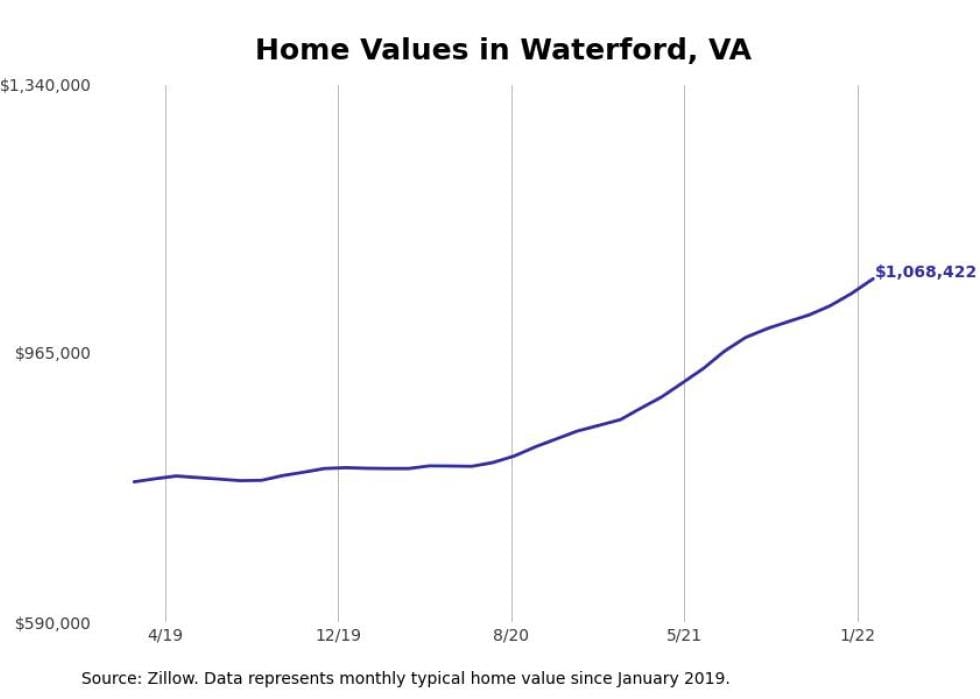 #5. Waterford
– Typical home value: $1,134,293
– 1-year price change: +20.8%
– 5-year price change: +50.3%
– Metro area: Washington-Arlington-Alexandria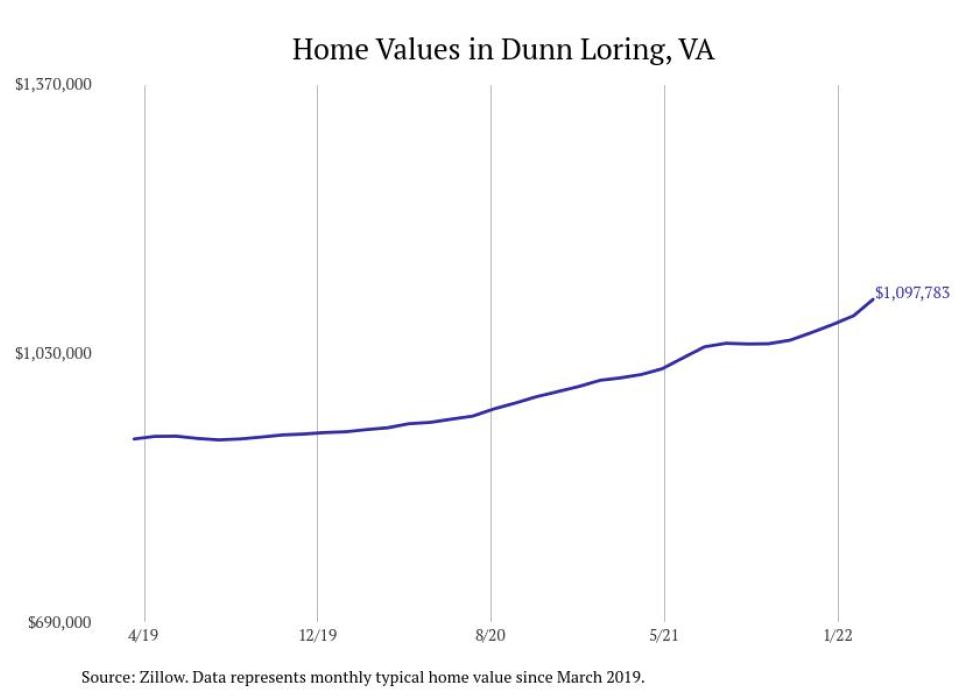 #4. Dunn Loring
– Typical home value: $1,140,558
– 1-year price change: +12.1%
– 5-year price change: +27.8%
– Metro area: Washington-Arlington-Alexandria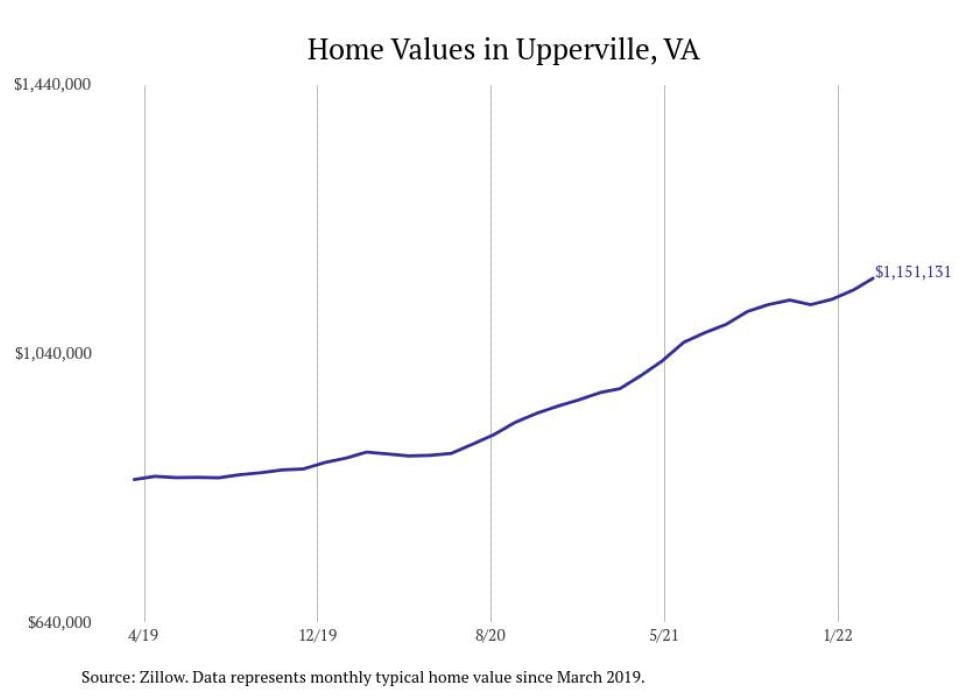 #3. Upperville
– Typical home value: $1,157,609
– 1-year price change: +13.4%
– 5-year price change: +46.7%
– Metro area: Washington-Arlington-Alexandria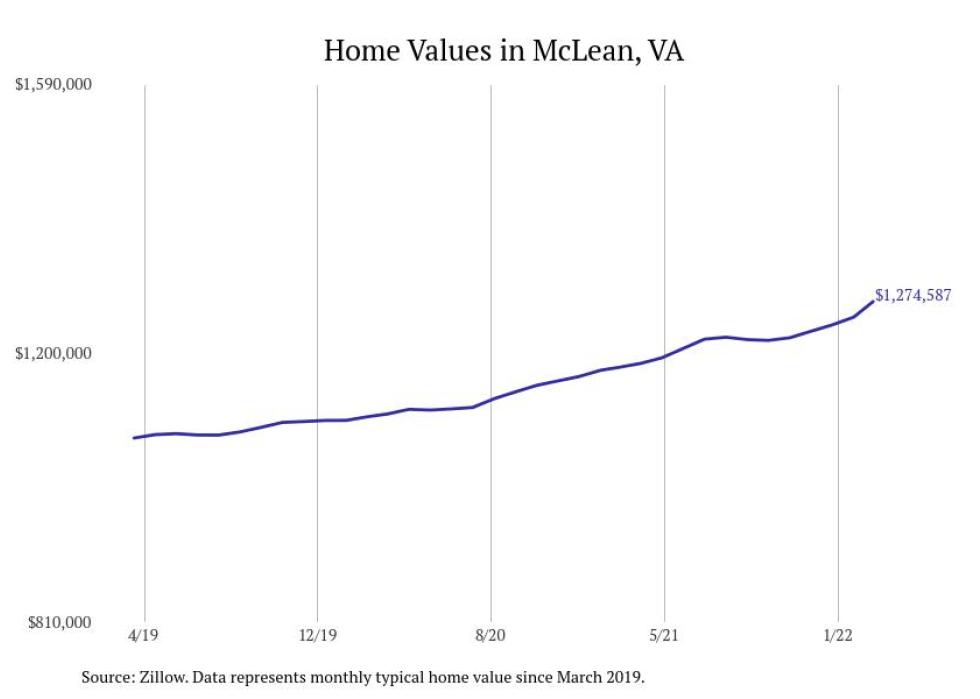 #2. McLean
– Typical home value: $1,347,676
– 1-year price change: +10.4%
– 5-year price change: +27.2%
– Metro area: Washington-Arlington-Alexandria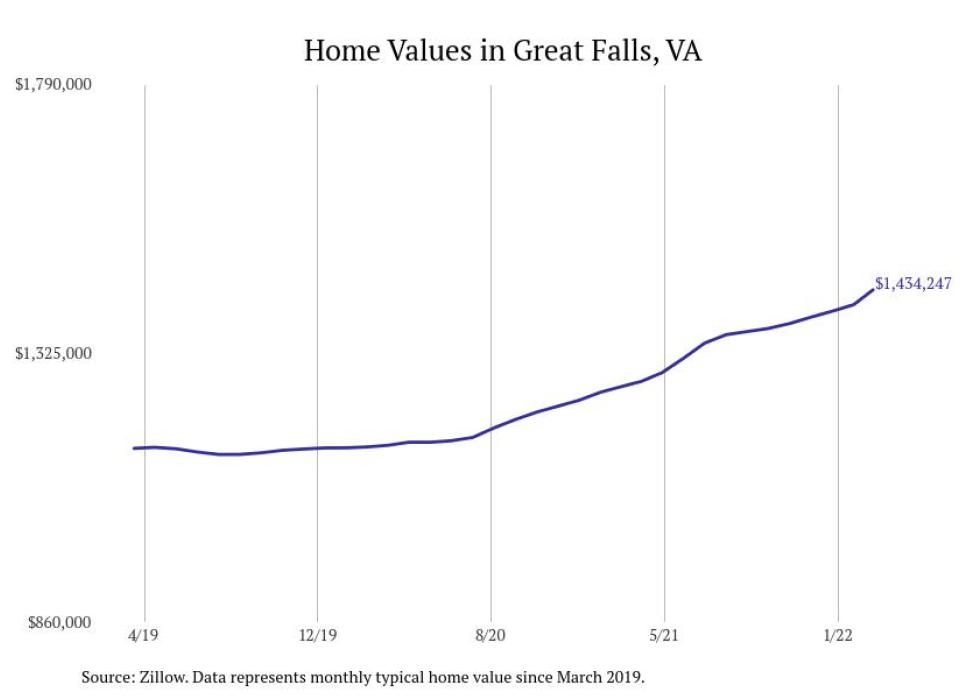 #1. Great Falls
– Typical home value: $1,504,051
– 1-year price change: +15.1%
– 5-year price change: +31.5%
– Metro area: Washington-Arlington-Alexandria